Job related training courses

Tom Hopkins Boot Camp Sales Mastery, (Sales techniques)
Pat Leiby One Call Close Technique (Sales techniques)

Thermal control by finite differences at Universidad Politecnica de Madrid (UPM)
Spacecraft thermal control by finite elements at UPM
CRAY UNICOS Operating System and CRAY Parallel Vector Processing (PVP) System Administrator at CRAY RESEARCH (CRAY Park, EAGAN, Minnessotta, USA)

SINDA/FLUINT at NASA Lewis Research Center ( LeRC) and Ohio Aerospace Institute ( OAI).

Computer Fluid Dynamics at NASA LeRC and OAI.
Finite Volume Differences using WIND code at NASA LeRC and OAI.

Applied Computational Heat Transfer using Finite Differences Method, Finite Element Method and Finite Volume Method by Robert J. Cochran (Ph.D.Principle Member of Technical Staff Sandia National Laboratories Albuquerque, NM, USA)

Thermal Control Engineering by University of Alabama in Huntsville (UAH) (Huntsville Alabama USA)

Job related skills

Management.
C.E.O and founder of Aguilar Aerospace SL company,
with management in technical and Marketing activities. Sales Five years of experience in Sales for Aerospace industry, mainly in the engineering analysis for commercial, military and scientific satellites, expert in one call close techniques to achieve the closing in one visit to the prospect. More than 92,000 engineering hours sold. Sales made in both languages, English and Spanish, for government and private aerospace and military companies. Great experience in the Aerospace and Military field. Also great skills in sales for IT and electronics industry

C.E.O and founder of Space Contact company.

Projects involved in.

Thermal control.
Worked in the Conformal Array Antenna (CAA) project at Space Division CASA/EADS for Alcatel Space.
Worked in the SARA reflector antenna project at Space Division CASA/EADS.
Worked in the ARABSAT project at Space Division CASA/EADS.
Worked in the Meteosat Second Generation (MSG) at Space Division CASA/EADS for Aerospatiale.
Worked in the X Mirror Modules Spacecraft (XMM-Newton) Main Support Platform (MSP) at Space Division CASA/EADS for Dornier Aerospace Systems (DASA).
Worked in the CUPOLA module for International Space Station (ISS) during its proposal phase at Space Division CASA/EADS.
CUPOLA ISS module shutters and mechanism thermal control for Alenia Espazio.
CUPOLA ISS module shutters and mechanism thermal review for Alenia Espazio.
Thermal control in ASCAT antennas for METOP satellite.
Thermal control for the launcher ARIANE 5 Upper Cryogenic Stage Equipment Box (VEB-ECA).
Components Technology Test Bed
SIXS Particle Physics Simulation

Structural analysis.

ROSETTA satellite structural analysis for MGAS and MGAX antennas.
Structural analysis for ARIANE 5 launcher VEB-ECA test bed.
MARES project for International Space Station.

Computer Experience

Hardware Systems

CRAY-YMP, CRAY-J90,CRAY-T90,CRAY-T3E,CRAY-GigaRing architecture, SGI-Challenge main frame, SGI-Origin2000 main frame, SGI Workstations, Sun Workstations, HP-UX Workstations, Digital UNIX Workstations, IBM PC AT/XT,Apple Macintosh, Digital VAX-VMS.

Software Experience Thermal/Fluid tools

ESATAN Finite Differences Tool for Thermal Analysis ( FDM) ESARAD Radiative Analysis Tool (RAD),
THERMICA (RAD),
FLUENT Computer Fluid Dynamics tool ( CFD),
SINDA/FLUINT (FDM+CFD),
SINDA/G (FDM),
NEVADA (RAD),
WIND Computer Fluid Dynamics using Finite Volume Tool ( CFD+FVM).
Mechanical tools COSMOS Finite Element tool ( FEM), MSC/NASTRAN (FEM),
ANSYS (FEM),
AutoCAD (CAD),
Micro Station (CAD),
MSC/PATRAN (FEM),
FEMAP (FEM)
GEANT4
FLUKA
MARLOWE 15B

Electrical/Electronics tools

OrCAD PCB (Electrical an Electronics CAD),
PsPice (Circuit Solver)

Software Development tools

Windows SDKs,
Windows DDKs (Device Driver Kits),
XLib and XtoolKits libraries,
GNU C++ compiler,
Borland C++ compiler,
Visual C++ compiler,
GTK++ libraries.
Macro Assembler compiler and Linker of Microsoft,
TASM of Borland,
FORTRAN 77 compiler,
Paradox for Windows,
Visual Basic,
Stutgart Neural Network System.

Languages
- Spanish (mother tongue)
- English (fluent)
- French (fair)
- Portuguese (fair)
- German (fair)

Travel disposition: Up to 100%.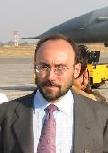 Image FIDAE 2002